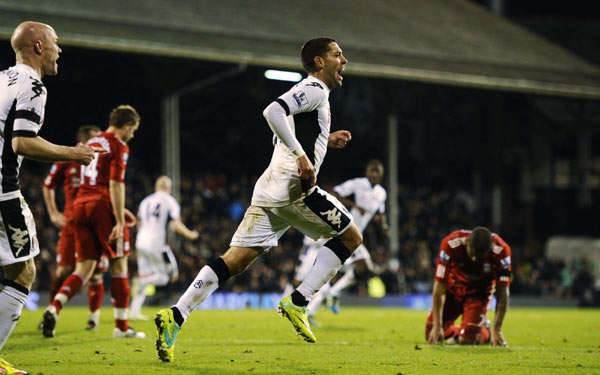 So our last trip up to Liverpool on Saturday didn't go so well, but hey – Everton is the better side in the city right now.
Just as a side note before we get started, can I mention how entertaining the fact that Everton are above Liverpool in the table is? 35 mill on Andy Carroll, 20 mill for both Henderson and Downing, and 7.5 mill for Charlie Adam. Compare that to Everton's total lack of finance. Loanees and cheap buys have been the answer for them this season, as well as the mid-season pickup of Jelavic, and I'm happy to see a cash-strapped club doing well, especially when it means the table-jumping of an intense rival.
That being said, I don't dislike Liverpool as a club and, truth be told, I'm a bit jealous of Everton for their success. I sometimes feel as if Fulham could and perhaps should be doing something similar. But I digress, there's a preview to be made.
State of Fulham:
Could be better. The thrashing at the hands of Everton was unexpected and a bitter pill to swallow. I wasn't expecting a result from one of our bogey away teams but we could have made a much better effort than we did. It was another limp away performance, and doesn't bode well for the rest of the season. However, I think the players will go into this game feeling optimistic for two reasons:
1. They beat Liverpool at the Cottage, and it could have been by more than one goal. That'll give them encouragement and hopefully they'll play with a little less fear than otherwise.
And 2. Anfield has fallen from a fortress to not much more than a playground. Liverpool have won just five home matches this season, drawing nine and losing three. We only lost by an own goal from The King of Own Goals, John Paintsil (may his Fulham career be remembered for better reasons) last season, and I think a decent result is there for the taking.
Overall, Fulham really have nothing to play for, but neither do Liverpool, and I think Jol should hope and try to improve away performances (as Kyle talked about in his Everton preview). With Sunderland at home and Tottenham away coming up (what a hilariously capitulatory season Spurs have had as well), any sort of result would be welcome to build confidence ahead of two tough fixtures.
State of Liverpool:
Basically, who knows? They've been terrible at home this season, decent away, but overall incredibly disappointing in the league when compared to the Cups and when their monetary outlay and pre-season expectations are considered. They've just come off of a dominant performance against a fading Norwich side – it seems like the end of the season can't come soon enough for them – and will be confident heading into this match. However, they have the FA Cup Final this weekend, and hopefully will be resting many of their key players. And by that I mean Steven Gerrard and Luis Suarez. I watched a lot of the Norwich game and those two seem to be the only players really trying on offense – the rest looked to be saving themselves for the final I guess. Overall, they're in decent form but will be distracted by what's to come.
Prediction:
I'd love to say that Fulham will upset the Reds and cause another day of misery at Anfield, but with that tragic Everton performance and the general away-day hoodoo around the club, I don't see three points on the cards. A draw, however, isn't asking too much, given Liverpool's troubles at home and their rather large and trophy-shaped distraction on Saturday. I'm calling a 1-1 draw, with either Dempsey or the Pog scoring (brave I know), and hopefully an assist for Dembele. I'm keeping my fingers crossed for an unlikely win, but I don't see it happening. Also, I hope Suarez won't play. He's terrifying.
Thanks for reading and please comment with your thoughts!